Gain+ : Insurance dashboard for agents
Designing a insurance and finance website for better usability and pleasing experience.
The objective of designing this system was to allow the insurance agents to win new orders and to retain the existing ones.
It began with a simple user interview to a full-fledged visually appealing and equally usable tool.
A agent who takes up the insrance services for the first time faces several difficulties. These need to be addressed through the UX process.
Simplify the registration and on-boarding process for the new users.
Eliminating any unnecessary technical jargon from the inner pages.
Presenting complex data in an intuitive and easy-to-grasp format using info-graphics and data visualization tools.
Clearly calling out call-to-actions wherever user can act quickly.
Updating the style-guide to make the website consistent on all platforms.
Deliver a great experience for desktop, laptop, tablet and mobile.
'User-first' approach was followed keeping in mind the specific needs for the users from finance domain.
Following the basic principles of user-centered design (UCD) methodology, a process was outlined in consultation with both business and the team.
Who is the user of this application?
The insurance agent is a person who wins business for a insurance company by selling policies to the customers.
Activities and goals of an insurance agent.
Goal: The ultimate goal of any insurance agent is to earn maximum profits in terms of commission the insurance company gives them.
I interviewed 4 of these agents in an unstructured format, allowing them to speak up as much as they want.
I asked them the following questions:
Describe a typical day that you have.
Do you face any trouble with doing any of your regular activities.
If you were given a magic lamp that can help you with your work, what would you wish for?
What are the best parts that you love about your job?
Findings from the responses:
A typical insurance agent begins her/his day by sipping on morning coffee and reading mails or listening to voice messages they have received the previous evening. They plan out their day based on this.
They sometimes have to speak with the managing companies or the insurance companies regarding a policy or a client.
Then, the agents often try to figure out what kind of personalized insurance coverage would a client need.They understand their client's requirements.
For this they fix an appointment with a client and speak to them either in person or over the phone. They have a detailed needs analysis discussion with the clients.
Often the agents utilize their lunch breaks to talk to a client in person. This gives them a better connect and helps them retain the client in the long run.
Post-lunch, the agents often call up their existing clients. They also renew any expiring policies. This time, they speak to client to understand if the existing policy covers them suitably or a new policy needs to be decided. This helps the agents expand their user base, since happy clients refer their friends and family members.
Agents often work on other networking and business growing activities such as…

Networking meetups
Seminars set up by insurance companies
Direct selling to stakeholders in an organization
Setting up ad campaign.
Working with estate agents, financial planners, lawyers, etc. to seek opportunities.

Some agents spend their after-work hours researching into new markets and trends in other countries to get more ideas.
Insurance agents also write blogs or reply questions in forum to enhance their skills or to gain prospects.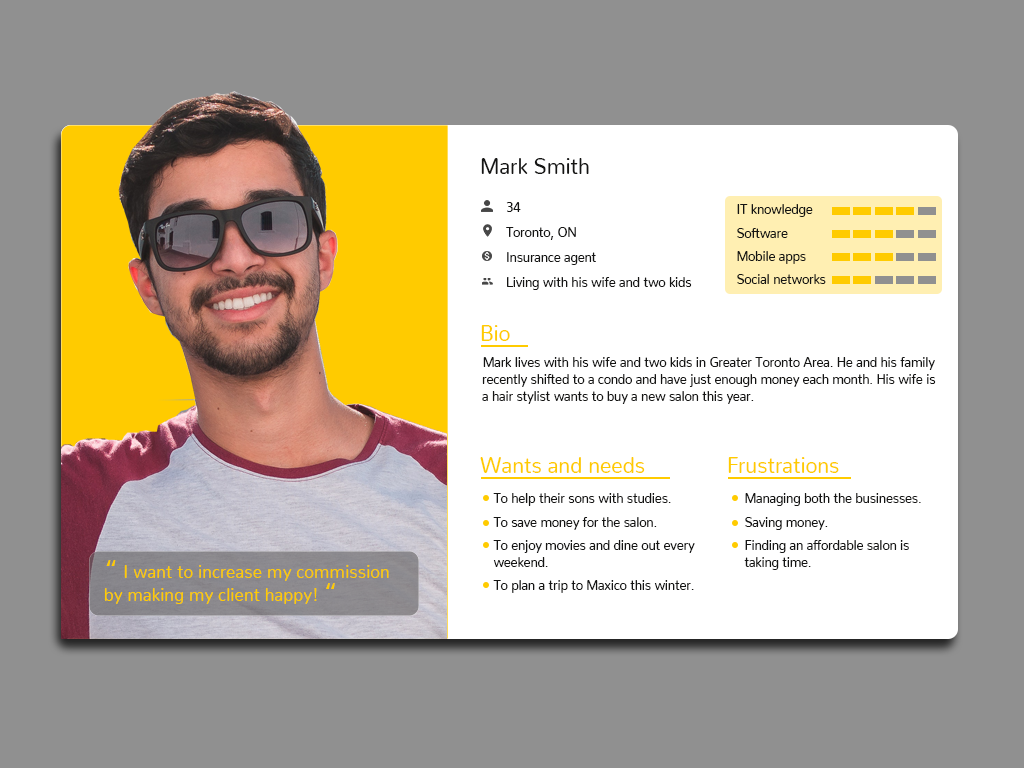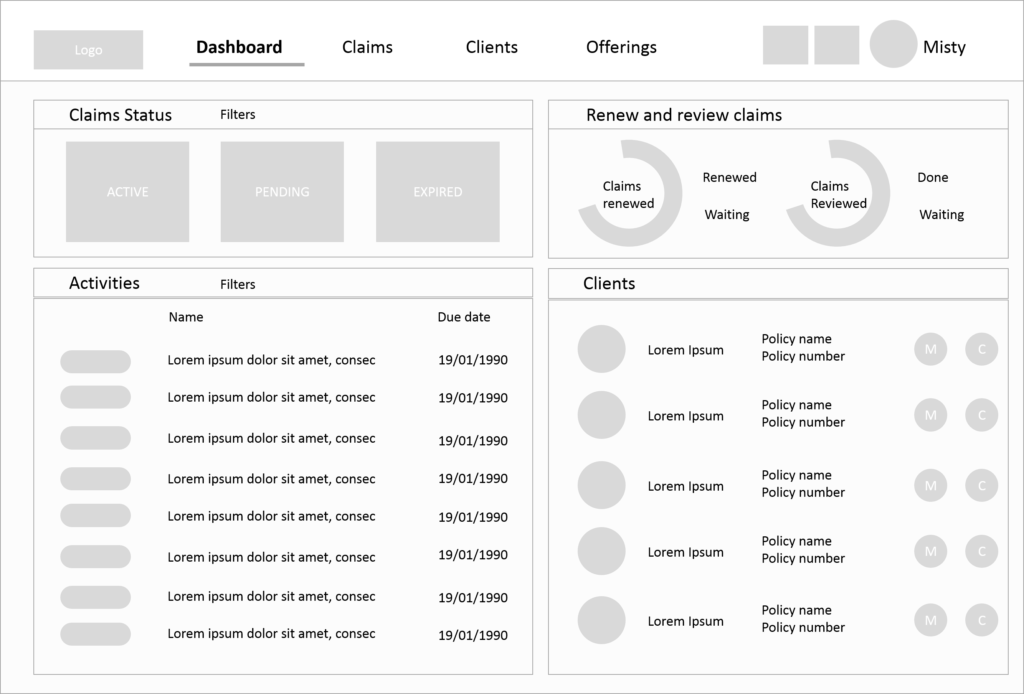 A quick visual recognition of the claim status was needed.
Search feature is also needed since the agents frequently search for the information.
Some fields such as the name of the clients should be clickable.
Level of priorities should be high, medium or low.
There should be a feature of adding new activities and assigning them a priority.
Recently added / contacted clients should appear first.
There should be a filter on activities.
In order to set the correct tone and mindset for the application, I created a mood-board using keywords such as 'finance', 'insurance', 'agents' and 'commission'.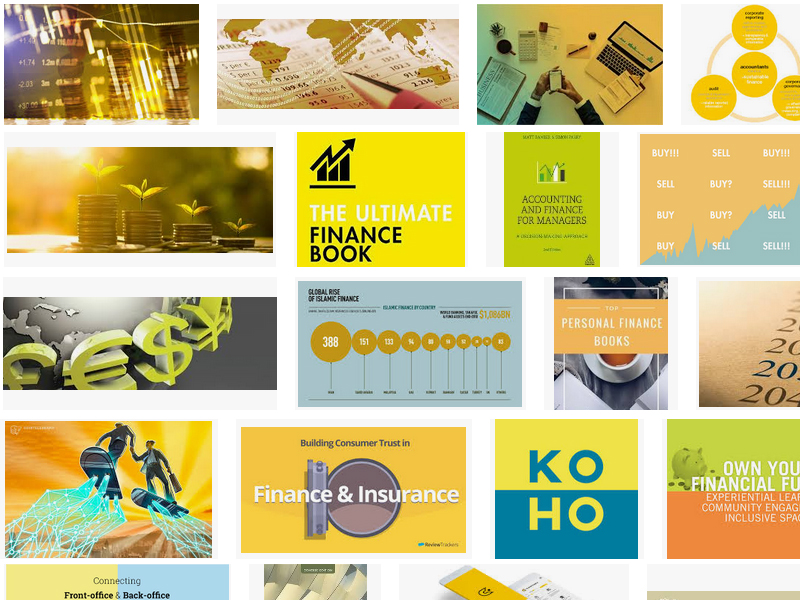 Style guide is needed to keep all the elements consistent and make the application easy to use.
I derived the colors from the moodboard and used a balance of aesthetics to create a style guide which would bring a sense of completeness to the insurance application.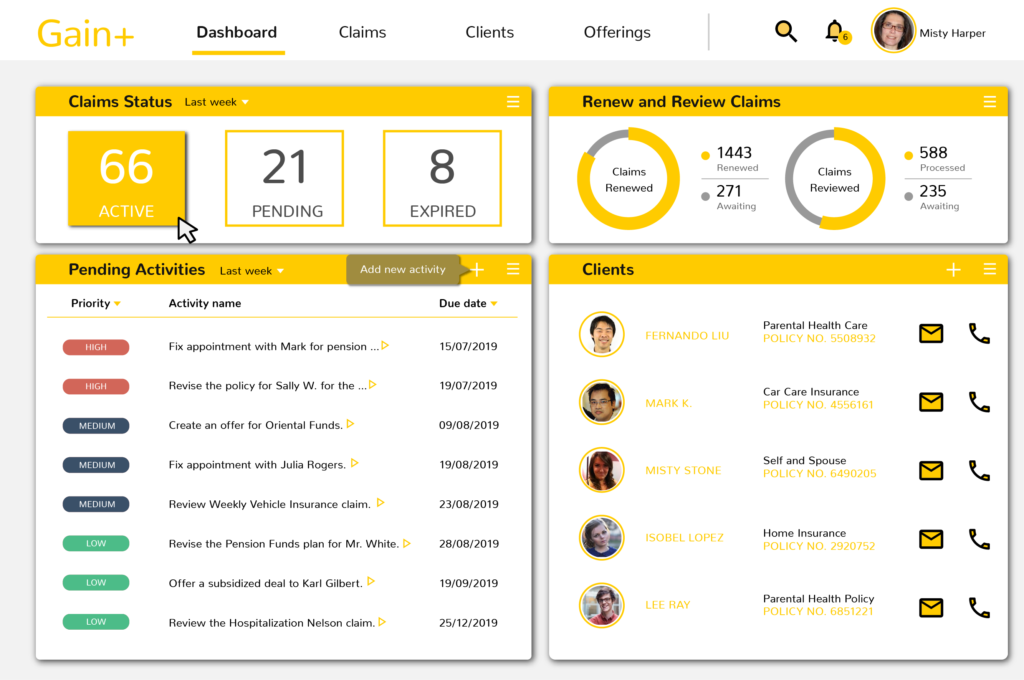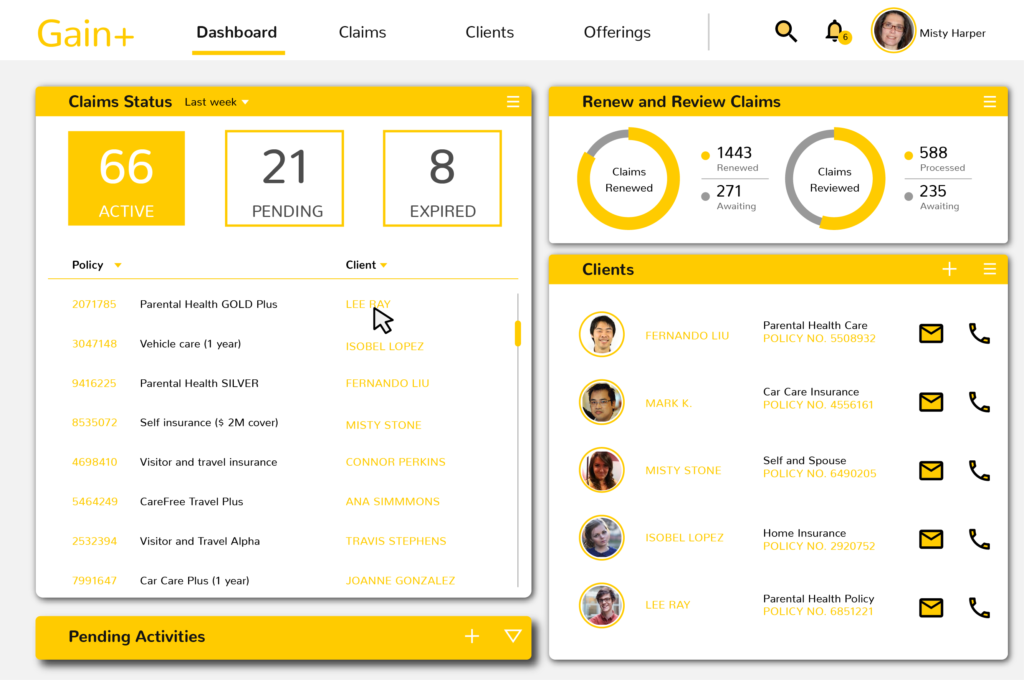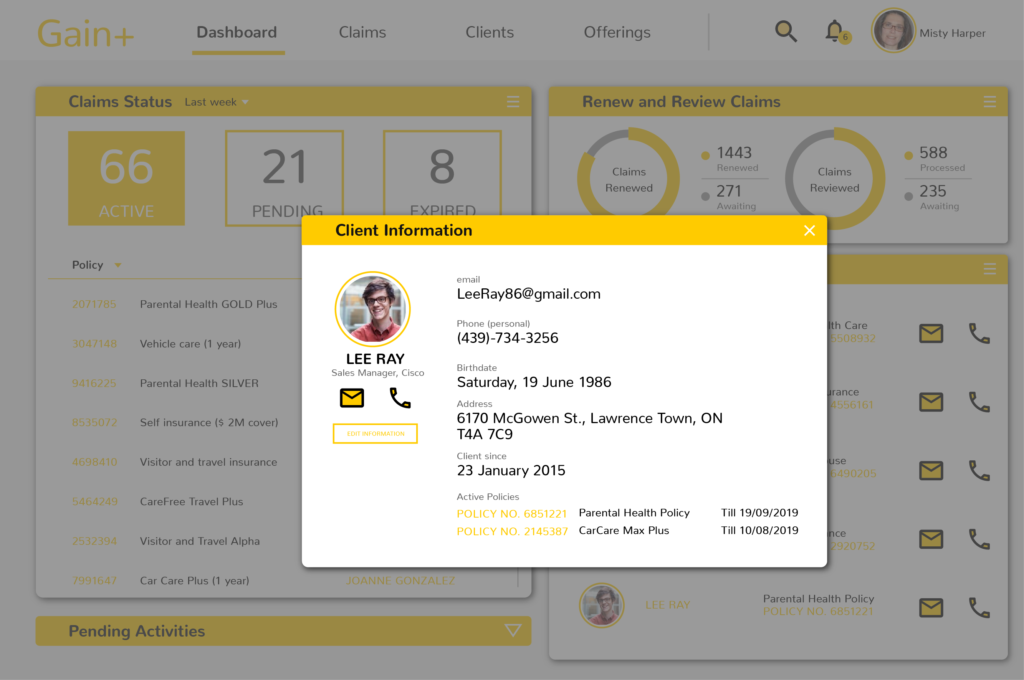 Responsive: Use anywhere!
Insurance agents are on move all the time! They should have the facility to plan the things on the go. Therefore Gain+ is a responsive application.
Applications like Gain+ are needed in todays world where insurance is becoming more important.
The people who bring insurance to us, namely the insurance agents, must be catered for with the latest technology.
I presented the updated designs to the insurance agents again. They had some more features as a part of future work. More features which can be included in Gain+
Ability to set alarms and reminders for quick updates.
A video calling and recording feature to help the agents conduct business from the app itself.
Feature to integrate it with real-time news feeds.
Gamification elements to teach new agents the nuances of business.
Image credit : Photo by Daniel Xavier from Pexels